A 1,000-yr-outdated grave may well have held a powerful nonbinary individual
4 min read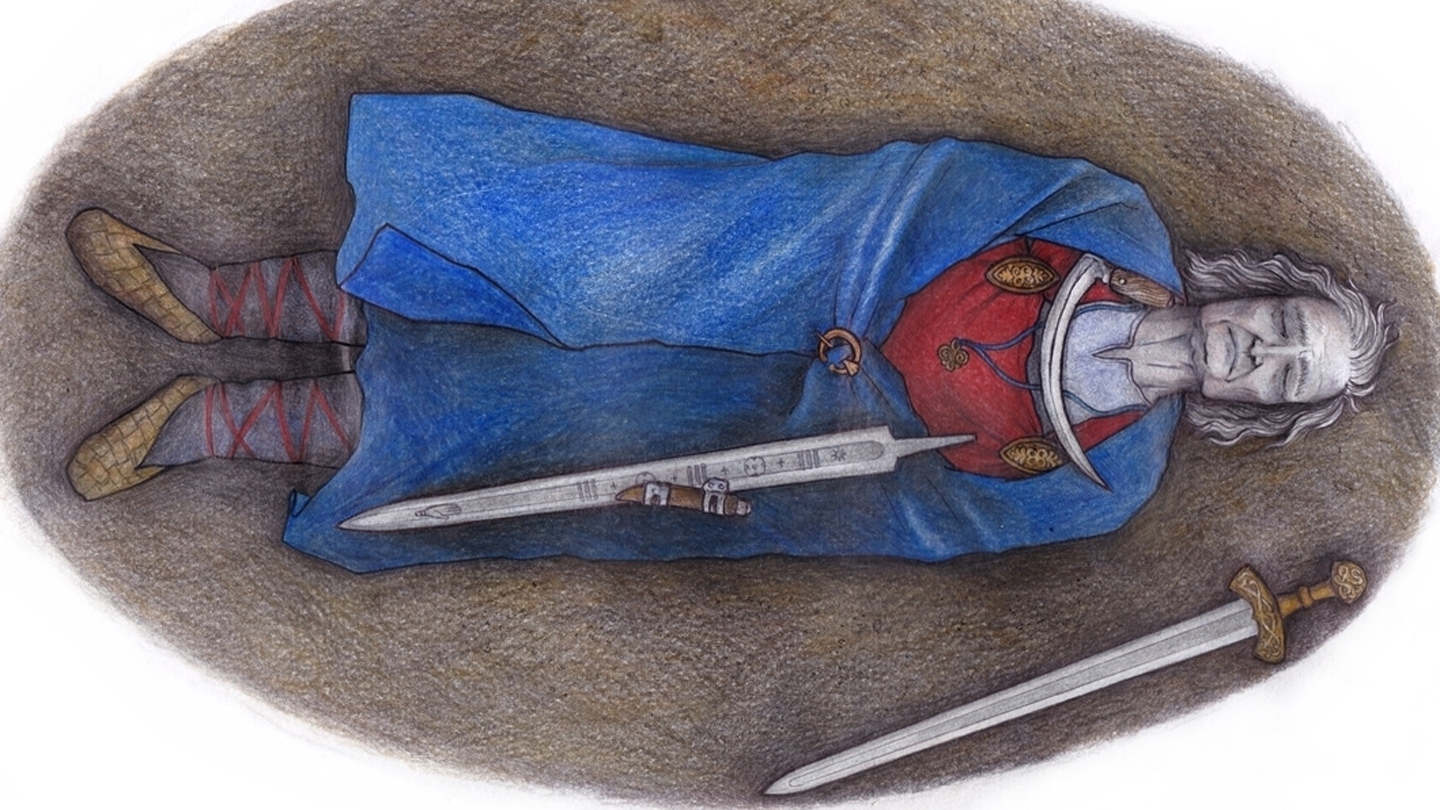 For a long time, a about 1,000-yr-aged grave in southern Finland has been believed to have held a effective female who may have been a warrior. But an individual who was biologically male might have essentially have been interred there, researchers now say. And there are indicators that this human being was potentially a revered particular person with a nontraditional gender identification.
Discovered in 1968 at a web-site recognized as Suontaka, the Finnish grave held a mainly decomposed human skeleton. Only two leg-bone fragments ended up properly excavated. The grave also bundled jewelry ordinarily connected with gals and two swords, together with one particular with a bronze hilt, normally attributed to men. Goods in the Suontaka grave day to the latter component of Finland's early medieval period, involving 1050 and 1300.
Now, an analysis of a small amount of nuclear DNA extracted from a leg-bone fragment indicates that the grave held an person born with an added X chromosome, say archaeologist Ulla Moilanen of the University of Turku in Finland and colleagues. Symptoms of this situation in existing-day males, recognized as Klinefelter syndrome, include very low testosterone, absence of facial and overall body hair, enlarged breasts and understanding and language-connected issues. Consequences of this unusual problem on expansion and look selection from gentle to recognizable.
That genetic proof, put together with the strange combine of male- and female-connected products in the grave, implies that the grave held an person who was nonbinary, Moilanen's group suggests. Gender identification refers to a person's notion of self as male, female, a mix of equally or neither. It usually, but not always, coincides with a person's organic intercourse. Nonbinary persons have gender identities that are not strictly male or woman.
Even in early medieval societies that emphasised masculinity and warfare, some individuals who did not in shape group anticipations about how males and girls should really behave may have been interred in techniques that commemorated their nontraditional social gender identities, the researchers conclude July 15 in the European Journal of Archaeology.
"This burial [at Suontaka] has an unconventional and solid combination of female and masculine symbolism, and this might show that the individual was not strictly affiliated with possibly gender but rather with some thing else," Moilanen says.
The nature of that alternate gender identification continues to be a secret. Further more complicating matters, early medieval gender identities may have been formed by improperly recognized social and neighborhood forces, not particular choices, Moilanen says.
Adult men right now differ drastically in their responses to Klinefelter syndrome, says psychologist Chris Kraft, codirector of clinical products and services at the Johns Hopkins Faculty of Drugs Sexual intercourse and Gender Clinic. Some produce nontraditional gender identities, whilst others express confusion about their gender id. But a lot of gentlemen with Klinefelter syndrome adopt a traditional gender id for their organic sex. Factors for these variances are badly understood.
"It's tough to know how an individual in early medieval Finland would have reacted to having Klinefelter syndrome," Kraft states.
Intriguingly, though, the Suontaka particular person not only experienced a most likely scenario of Klinefelter syndrome but was also buried with that curious combine of male and woman goods. Moilanen's team studied 23 animal hairs and 3 chicken feather fragments retrieved from soil that experienced been excavated with the leg-bone fragments. Based mostly on that proof, the Suontaka person was possible dressed in feminine dresses designed of sheep's wool and furs from animals that integrated rabbits or hares, the scientists say. Hen feathers came from a pillow or bedding, which along with brooches put in the grave ended up associated with women, the scientists suspect.
But in a move closely tied to early medieval concepts about masculinity, a hiltless sword was apparently placed on top rated of the man's physique at the time of burial. A fancier sword with a carved bronze hilt was in all probability positioned upcoming to the physique later, most likely to demonstrate continuing respect for the Suontaka particular person, the investigators advise.
The new analyze plausibly implies that the Suontaka grave held a highly regarded person who experienced neither a standard male nor woman sense of their social gender identification, states archaeologist Marianne Moen of the University of Oslo, who was not section of Moilanen's team.
But even if a girl had been placed in the grave with swords and jewellery, the evidence would point out that some individuals with exterior-of-the-box identities — such as a lady who considered herself as biologically woman but socially male according to conventions about warriors at the time — ended up respected in early medieval Finland and perhaps in other places in Scandinavia, Moen adds.
Other scientists have controversially proposed that an somewhere around 1,000-year-aged grave in Sweden held the continues to be both of a Viking warrior lady or a lady buried with the attire and weapons of a warrior (SN: 9/13/17).
Scarce circumstances in Scandinavia of early medieval graves containing adult men who were being buried with jewellery and other female merchandise have been difficult to interpret. Possibly the closest parallel to the Suontaka individual is a person who was interred at Vivallen, Sweden, virtually 1,000 several years ago with attire of both equally superior-rating males and girls, as effectively as jewelry and a compact knife, Moilanen says. Some researchers suspect that this person was a ritual professional, considering the fact that there is evidence that shamans dressed in women's clothes in early medieval Scandinavia.