Partners in Action | Category Advice: On the road again
5 min read
Top tips and advice are available via Unilever's Partners for Growth category management initiative – just one of several categories covered by the programme – which aims to provide effective, impartial advice to help store owners maximise sales.
It was to promote this initiative that Unilever teamed up with Independent Retail News earlier this year for a series of cash and carry days and store visits designed to engage with independent retailers.
Our first visit, back in May, looked at non-food categories such as laundry, cleaning products and personal care, while the latest roadshow took place last month (October) at Bestway's flagship depot in Park Royal, north-west London, and was once again headed up by David Harper, wholesale lead at Unilever UK.
"We are renewing our call to the trade to give the best space to the best sellers," said Harper. "It helps retailers decide what to put on their shelves and helps shoppers find what they are looking for."
Strong sales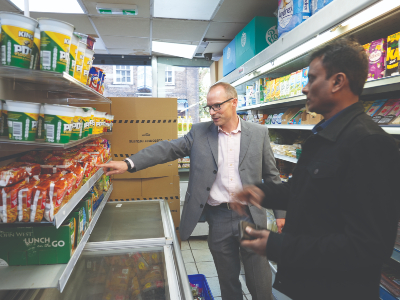 At Bestway Park Royal, Harper shared information and leaflets about Partners for Growth with retailers visiting the cash and carry and encouraged them to take a fresh look at their fixtures when they returned to their stores. Among the retailers we met was Davinder Singh, owner of the 1,000sq ft Cherry Local convenience store in Muswell Hill, north London.
He reported good sales of Pot Noodle variants including Chicken & Mushroom and Beef & Tomato, and said he used a mixture of non-price-marked and price-marked packs (PMPs), with the latter helping to provide reassurance to customers they were not being overcharged.
K Shahzad, owner of a small independent shop in Harlesden, north-west London, also reported strong sales of pot snacks, particularly Chicken & Mushroom Pot Noodle, but said rising prices across all categories were making it difficult, both for him as a retailer to keep on top of pricing and margins and for his shoppers, many of whom were single parents on low incomes.
Unbiased advice
Another retailer visiting the depot was Sasi Karan, manager of Best-one Tower Stores in Wapping, east London. Keen to boost sales of pot snacks and noodles, he invited Partners for Growth back to the shop to take a look at the category for themselves and provide some unbiased advice.
The 1,450sq ft store is situated close to Wapping station on the London Overground, on a small parade complete with a butcher's shop, greengrocer, post office, launderette, dry cleaners and a pharmacy.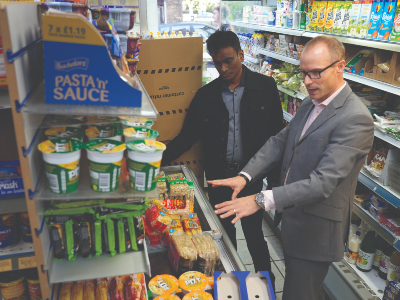 The local area mainly consists of social housing, with several estates surrounding the store. But there are also luxury flats just down the road and the district boasts a number of gastropubs and independent coffee shops.
Customers at the store are drawn not only from local residents but also from two nearby schools and a college, as well as the large number of builders and tradesmen working in the area.
On arrival, the pot snacks and noodles fixture consisted of four 1.5-metre shelves situated above a chest freezer full of pizzas. There were several facings of Chicken & Mushroom Pot Noodle and Batchelor's Super Noodles, as well as single facings of Batchelor's Pasta 'n' Sauce, in a mix of PMP and non-PMP formats.
Also on the fixture were larger packs of plain cooking noodles from the likes of Sharwoods and Blue Dragon, as well as seven flavours of Koka instant oriental noodles, which Karan said were his strongest sellers, retailing at 70p for an 85g block.
The brand took up one-and-a-half shelves of the four-shelf fixture. "Block noodles are where the fastest growth is at the moment and you need to have them as well as pot snacks," said Harper. "But he's got too many variants. There is scope for retailer choice, but you need to stock them in tandem with the core range."
Market leader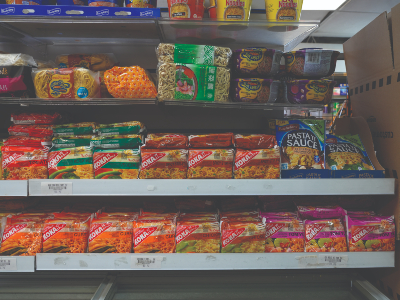 The first recommendation was to remove lines that did not belong on the snacking fixture, including two facings of microwave popcorn (relocated into crisps and snacks) and the Sharwoods and Blue Dragon noodles. "These shoppers tend to be on a 'meal for tonight' or top-up mission, whereas pot snacks shoppers tend to be looking for a meal for now or food-to-go," said Harper, "so it makes sense to tap into your shoppers' missions."
A single ethnic line of Chinese noodles with spinach, which Karan said he stocked for the benefit of a single customer, was also removed. "I'd just keep them behind the counter for her," Harper suggested.
In the space created, he brought in five facings of the best-selling Pot Noodle variant, Chicken & Mushroom, as well as a couple of facings each of the Chicken Curry, Beef & Tomato and Bombay Bad Boy variants, working from left to right in terms of the best sellers.
Unilever's Pot Noodle is the top-selling brand, accounting for a 39% share of the market. PMPs were used to provide price reassurance – particularly important as the shelf-edge labels had fallen off the top two shelves.
The Koka noodles were retained, starting with the best selling spicy stir-fry variant on the left, but with the number of facings reduced to a single shelf.
Shopper missions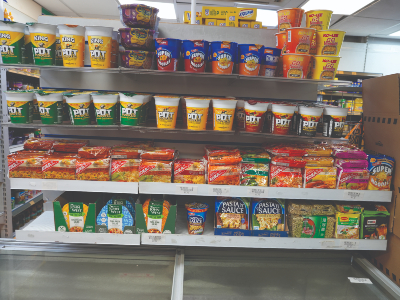 Core Pot Noodle variants (RRP £1.19) were placed at eye level on the third shelf to act as a beacon for the category, while a couple of King Pot lines (RRP £1.99) were located on the top shelf to encourage shoppers to trade up.
"King Pot is about 25% larger and is more of a meal than a snack and that's what shoppers are increasingly looking for," said Harper. He also recommended bringing in John West Tuna Bean Salad pots, which had previously been stocked alongside meal ingredients but are in fact intended for on-the-go snacking.
What Harper did like was the siting of the pot snacks fixture opposite chilled sandwiches and other food-to-go items. "The adjacency to the sandwiches is very good, because people are thinking about meal choices," he said. He also recommended Karan make people aware that the store offers to provide hot water if customers want to eat their pot snacks on-the-go – something that was likely to appeal in particular to the passing builders and white van men popping in for their lunch.
Watch the video overview of the visit
● Karan agreed to trial the new shelf layout and report back on its success after a couple of weeks. See the December issue of Independent Retail News for our follow-up report.
More advice on the category, including planograms for different shelf sizes, best-seller lists and top tips, is available here.